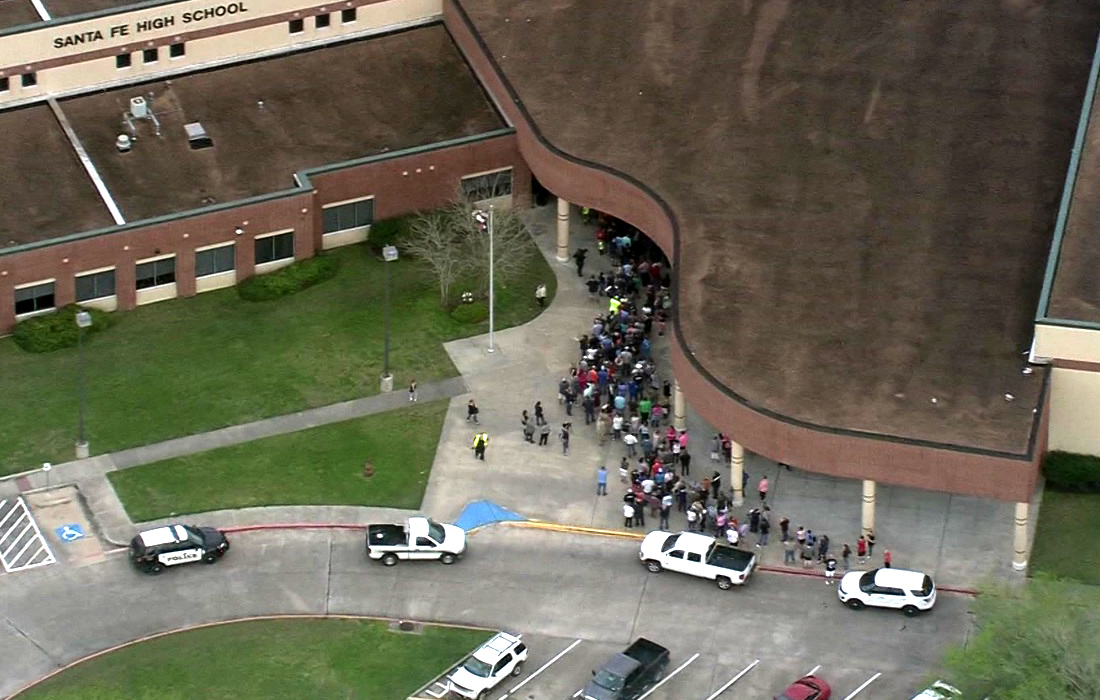 According to Ahmed and Walker (2018), there have been 23 school shootings resulting in casualties and injuries as of May 25, 2018.  The United States is currently averaging one school shooting per week.  It would have been difficult to fathom random school shootings as a regular occurrence ten years ago.  Over the years schools have prepared students for natural disasters with fire and tornado drills.  Now, parents and educators are faced with preparing students for active-shooter drills and advocating arming teachers with guns in some states.
On Friday, May 18, 2018, in Santa Fe approximately 30 miles southeast of Houston, Texas a tortured student executed a plan to be an active-shooter at Santa Fe High School killing eight students, two teachers and injuring others. When a shooting of this magnitude takes place this close to home, almost in your backyard, it makes one wonder are we doing enough to keep our children safe. With mass shootings in schools becoming a national epidemic are we doing enough as guardians to identify individuals with mental issues, emotional issues or showing signs of becoming a possible active-shooter? Are we preparing our children mentally and physically for this type of tragedy?
According to an official press release on May 30, 2018, Governor Abbott proposed a School and Firearm Safety Action Plan containing 40 recommendations to help keep our children safe in Texas schools. The proposal focuses primarily on increasing safety awareness and opening the door to collaborative discussions to formulate solutions.
Below are the highlights of his proposal (to review the proposal in its entirety click the link Gov. Abbott School and Firearm Safety Action Plan):
Increase Law Enforcement presence at schools
Improve Campus Security Programs

Increase staffing per school
Firearm training programs and refresher courses
Increase awareness and safety meetings
Increase collaboration between school districts, law enforcement, and parents

Increase Awareness and Training

Active shooter and Emergency Response Training
Firearm safety and storage Training
Mental Health First Aid Training

Proactive Measures

Improve school infrastructure to prevent security threats
Launch Awareness Campaigns
Crime Stoppers
Firearm safe storage practices
Utilize digital technology resources to prevent attacks
Removal of students threatening teachers – Zero Tolerance policy
Mandatory reporting of lost or stolen guns within ten days
Kudos to Governor Abbott for proposing an action plan for both improvement and preventative measures considered. Just keep in mind as with anything policy related, it may take time to work out the details and execution of Governor Abbott's School and Firearm Safety Action Plan.  In the meantime, parents have an opportunity to increase awareness in their households by proactively talking with children about recent school shootings and getting a pulse for their understanding of the circumstances that potentially trigger such occurrences.  Now is also a good time to access the mental wellness of your kids. Are they kind, compassionate, helpful to others? Or are they depressed, bullied, or not adjusting socially?  Helping your children cope with tragedy and learning how to identify and avoid potential gun violence at school is paramount to their survival.
Here are some things to consider to prepare your entire family:
Family and individual counseling
Gun safety and storage training
First Aid/CPR training
Self-Defense class
An open-door policy at home and school for children to report issues, concerns and potential threats
Know your children's friends and engage in their relationships
If you or a family member has experienced gun violence and required assistance, Goins Law is here to answer your questions.
Reference:
Ahmed, S., & Walker, C. (2018, May 25). There has been, on average, one school shooting every week this year. Retrieved May 28, 2018, from https://www.cnn.com/2018/03/02/us/school-shootings-2018-list-trnd/index.html
Governor Abbott Unveils Plan To Address School Safety In Texas|. (2018, May 30). Retrieved May 30, 2018, from https://gov.texas.gov/news/post/governor-abbott-unveils-plan-to-address-school-safety-in-texas
Read More
A rapper, a police officer and a judge walked into a courtroom…
The police officer and the judge went home.  The rapper won a sponsored vacation to state jail, an infamous hashtag #FreeMeek, and surreptitiously became an activist for criminal justice reform.
Often the narrative delivered via mass media skews details and withholds facts to sensationalize a story to intentionally provide a false narrative to increase subscribers and viewership.  Such is the case in the saga of Pennsylvania rapper, Meek Mill.
Social media and other media outlets mostly reported the parts of his calamity aligning with the stereotypical antics of a public figure, who happens to be a rapper.  The flash, the drugs, the altercations and the incarceration.  What we did not hear about in great detail are facts like…
Meek Mill is a business owner who provides jobs to several employees.
Meek Mill is a father to a son.
Meek Mill admits to being a recovered opioid addict, who has completed a court ordered treatment program.
Meek Mill is a regular human being, named Robert Williams.
Meek Mill was the victim of a judicial system operating on archaic principles designed to divvy stiffer penalties to men of color.
Currently, out on bail and facing a potential retrial having the potential to send him to prison for 2-4 years for probation violation, Meek Mill's legal woes began at the age of approximately 19 years old.  He was arrested on drug and gun charges, in which he accepted a plea bargain for 10 years + probation verses serving jail time. Over this 10 year period, he has been subjected to random drug tests, denied the ability to travel for work and harassed by police officers and a judicial system determined to make an example of him. 
Meek Mill's probation journey included 5 probation violations, in which Mill contends police officers targeted him with a heightened sense of enthusiasm because of his entertainment status. The incident providing the catalyst to his subsequent re-arrest for probation violation was born of a lapse in judgment leading to what should have been classified at best a verbal warning to desist and at worse a traffic violation. Meek Mill was charged with reckless driving involving a motor vehicle (ATV). The rap star contends he "popped a wheelie" on an ATV, in Manhattan, NY. The police arrested Mill and charged him with a felony instead of opting to give a citation for a traffic violation. This incident and four other minor infractions (probation violations), such as testing positive for marijuana use led to the judge's decision to rescind Mill's probation. 
Why is this a problem? Well, in the state of Pennsylvania like many others in the United States, men of color are disproportionately given costly and lengthy probationary terms and/or stringent prison sentences. According to Persinger (2016), "A new study has found African-Americans are incarcerated in state prisons at a rate 5.1 times the imprisonment of whites."  And "Pennsylvania — with a rate of 1 in 20 — ranked No. 8 among all states for the rate of adult Black male incarceration." Meek Mill has the misfortune of being a resident of a state that is known for the mass incarceration of African-Americans and the terms and length of his probation are not conducive to rehabilitation, nor are they designed for successful completion.
Today, more than ever we need people to advocate for criminal justice reform.  Meek Mill has pledged to use his platform and voice to help others plagued with legal woes similar to his own.
We are here to help you and your loved ones with navigating through the judicial process. If you're loved one has been charged for the first time with a felony and needs representation from an attorney dedicated to fighting for fair dispositions and justice, hire Goins Law.
Reference:
Persinger, R. (2016, June 21). Black jail rate in state at high. Retrieved May 14, 2018, from http://www.phillytrib.com/news/black-jail-rate-in-state-at-high/article_811abf15-9dac-5510-a1bc-140d23acece6.html
Read More